Product was successfully added to your shopping cart.
Details
NOTICE: Activation key must be used on a valid Steam account. Requires internet connection.
F1 2017 SPECIAL EDITION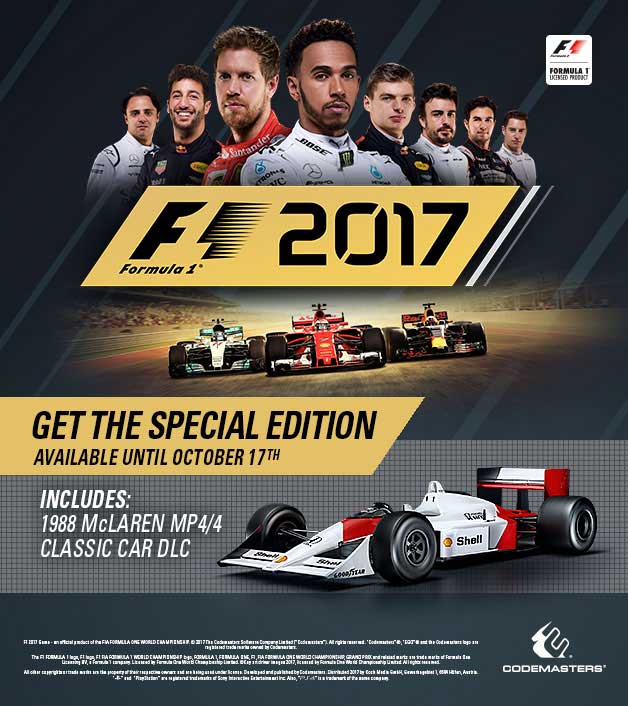 F1 2017 Special Edition includes F1 2017 Game and F1 2017 '1988 McLAREN MP4/4 CLASSIC CAR DLC'. The Special Edition will be available until October 17th 2017.
About the game
Make history in F1™ 2017.
Win the 2017 World Championship, break every record in the fastest ever F1™ cars, and race some of the most iconic F1 cars of the last 30 years. With an even deeper ten year Career, more varied gameplay in the new 'Championships' mode, and a host of other new features, both online and offline, F1™ 2017 is the most complete and thrilling F1 videogame ever.
System Requirements
Windows - Minimum
OS: 64bit Versions of Windows 7, Windows 8, Windows 10
Processor: Intel Core i3 530 or AMD FX 4100
Memory: 8 GB of memory
Graphics: Nvidia GTX 460 or AMD HD 5870
DirectX: Version 11
Network: High speed internet connection
Disk Space: 30 GB available disk space
Sound Card: DirectX Compatible Soundcard
Additional Notes: Supported Graphics Cards: AMD HD5870 or better, HD6870 or better, HD7790 or better, R7 260 or better, R9 260 or better Nvidia GTX460 or better Series, GTX560 or better, GTX650Ti or better, GTX750 or better, GTX950 or better
F1 2017 Game - an official product of the FIA FORMULA ONE WORLD CHAMPIONSHIP. © 2017 The Codemasters Software Company Limited ("Codemasters"). All rights reserved. "Codemasters"®, "EGO"® and the Codemasters logo are registered trade marks owned by Codemasters.
The F1 FORMULA 1 logo, F1 logo, F1 FIA FORMULA 1 WORLD CHAMPIONSHIP logo, FORMULA 1, FORMULA ONE, F1, FIA FORMULA ONE WORLD CHAMPIONSHIP, GRAND PRIX and related marks are trade marks of Formula One Licensing BV, a Formula 1 company. Licensed by Formula One World Championship Limited. ©Key art driver images 2017, licensed by Formula One World Championship Limited. All rights reserved.
All other copyrights or trade marks are the property of their respective owners and are being used under license. Developed and published by Codemasters.
Windows - Minimum
OS: 64bit Versions of Windows 7, Windows 8, Windows 10
Processor: Intel Core i3 530 or AMD FX 4100
Memory: 8 GB of memory
Graphics: Nvidia GTX 460 or AMD HD 5870
DirectX: Version 11
Network: High speed internet connection
Disk Space: 30 GB available disk space
Sound Card: DirectX Compatible Soundcard
Additional Notes: Supported Graphics Cards: AMD HD5870 or better, HD6870 or better, HD7790 or better, R7 260 or better, R9 260 or better Nvidia GTX460 or better Series, GTX560 or better, GTX650Ti or better, GTX750 or better, GTX950 or better
Be the first to review this product